Dick finished the Smoky Mountains in 6 days. He has walked 270 miles, not counting the grueling 8 mile approach to the trail back at Springer Mountain, averaging between 15 and 17 miles a day. He weighed himself yesterday. When he started the trail, he weighed 188 pounds; he's now down to 170. He should cross the Virginia border by the middle of May. His feet continue to be blister-free.
Dick called early Sunday morning. He and his hiking buddies, Rick Rocks and Mothball, had arrived in Hot Springs, North Carolina, on Saturday afternoon, thirty minutes after the post office had closed. Knowing there was a box of food waiting for him, he decided to take a day off and stay in town until Monday morning. Take a day off? I'm sure my voice conveyed my shock because he quickly clarified that he was taking a day off from
hiking
, not from
walking
. In fact, he had just completed his regular four-mile stroll that morning. Thank goodness. I've come to be as proud of that walking streak as he is.
He said the weather had been miserable - rain, wind, even snow. While on the top of a hill called "Max's Patch," he trudged through snow above his ankles.
Last week, when Dick and his friends hiked into Gatlinburg, he ran into Guy Zimmerman, a man he had met on the trail. Guy and his wife had driven their son, another hiker, into town for supplies. Guy recognized Dick and wound up shuttling him around Gatlinburg so he could buy his supplies. Now, several days later, as Dick walked out of the woods and into Hot Springs, he saw Guy and his wife sitting on a log eating grinders. I suppose the world of the AT is small enough that such a meeting wouldn't seem odd at all, but Dick's jaw dropped when Guy looked up and casually said, "Hi, Dick. Talked with your wife last night." Guy proceeded to explain that he and I had exchanged email. He had written to report that he had spent a little time with Dick in Gatlinburg and that he was fine. Ah, the beauty of modern technology.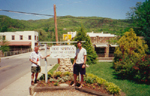 Hot Springs is a small town, population approximately 600. Unlike Columbia Falls, Montana, which has no falls (a fact Dick and I discovered while on vacation several years ago), Hot Springs, North Carolina, does have springsˇand they're hot. For eight dollars an hour, a person can sink into a tub and soak away the weariness of both mind and body in mineral water that maintains a temperature of 100 degrees year-round. When Dick called me on Sunday morning, he said soaking was just what he and Rocks and Mothball had planned for that evening.
Dick, Rick, and Mothball spent the night at a nearby hostel at a cost of $10 each. The room reservation list was on the kitchen door. Anyone wanting breakfast ($5) had to sign up by 11 p.m. of the previous night. Anyone wanting to stay for a second night, had to sign up by 10 a.m. And those planning to stay for dinner ($8) had to sign up by 8 p.m. I don't know how typical this hostel was, but in addition to offering library books and videos for guests to use, it also offered musical instruments. Dick plays a mean air piano, but I'll tell you about that another time. According to the written guidelines given to each guest, hot water is limited during "hiker rush season" (March ˝ June), so hikers are asked to take showers instead of baths. The hostel even offers a program for anyone who needs or desires to work in exchange for room or board.
Saturday night, Dick and some friends went to a local pizza shop. Dick wore his "going to town shirt," a bright blue and white Hawaiian shirt we bought while on vacation several years ago. That trip, by the way, was a prize in a national sweepstakes. For twenty-six years, Dick wore a shirt and tie to work. He views hiking the AT as his new job. I think the new uniform suits him just fine.
Mothball will soon be wearing a new uniform too. In the good-news-bad-news department, he called his parents on Saturday and learned that he had been accepted into the OCS (Officer Candidate School) flight training program in Pensacola. In a highly competitive field, he was one of nineteen applicants selected for only two openings. The bad news was that he'd have to leave the trail immediately.
I asked Dick about "The Captain," the seventy-six-year-old man who was hiking the trail. Dick hadn't seen him in over a week.
If all goes well, Dick and Rick Rocks will be in Erwin, Tennessee, by May 8, and into Virginia the week after. Meanwhile, I'm having adventures of my own. I've attended my first chamber music concertˇquite a stretch for a Rolling Stones, ZZ Top, Bob Seger, Bruce Springsteen fan. I also went to a poetry workshopˇanother first for me. Dick and I have a fancy gas grill, a sweepstakes prize. I know this may sound silly, but I've never turned it on. I once had an accident with our old grillˇsinged my hair and eyelashes. Ever since then, Dick has taken care of the grill. But I just might tackle that this week too.
---